WEIRD REALITY starts Thursday October 6 at 1:30pm, and runs until 1:30pm Sunday, October 9th. For the full experience, we recommend arriving in Pittsburgh on Thursday morning, and departing sometime Sunday afternoon.
---
WEIRD REALITY takes place on the campus of Carnegie Mellon University, a mid-sized private university located in the midst of Pittsburgh's Oakland neighborhood – a bustling hub of schools, museums, galleries and historical sites, ethnic restaurants and shops. The area surrounding campus is attractive, relatively safe and pedestrian-friendly. If you're staying at the Wyndham conference hotel linked below, chances are you won't need a car.
Here are the key locations you need to know:
CMU Mellon Institute, location of WEIRD REALITY morning lectures
(4400 Fifth Avenue, map)
CMU University Center, location of some lectures and other activities (map)
Wyndham Pittsburgh University Center, our conference hotel
(100 Lytton Avenue, map)
Ace Hotel Pittsburgh, site of the VIA Festival
(120 South Whitfield Street, map)
The Frank-Ratchye STUDIO for Creative Inquiry, WEIRD REALITY headquarters
(North end of the 1st Floor in the CMU College of Fine Arts, map)
Doherty Hall room 2210, and Giant Eagle Auditorium (in Baker Hall), additional lecture locations.
A campus map of key lecture locations is shown below and available here in PDF (3.5mb):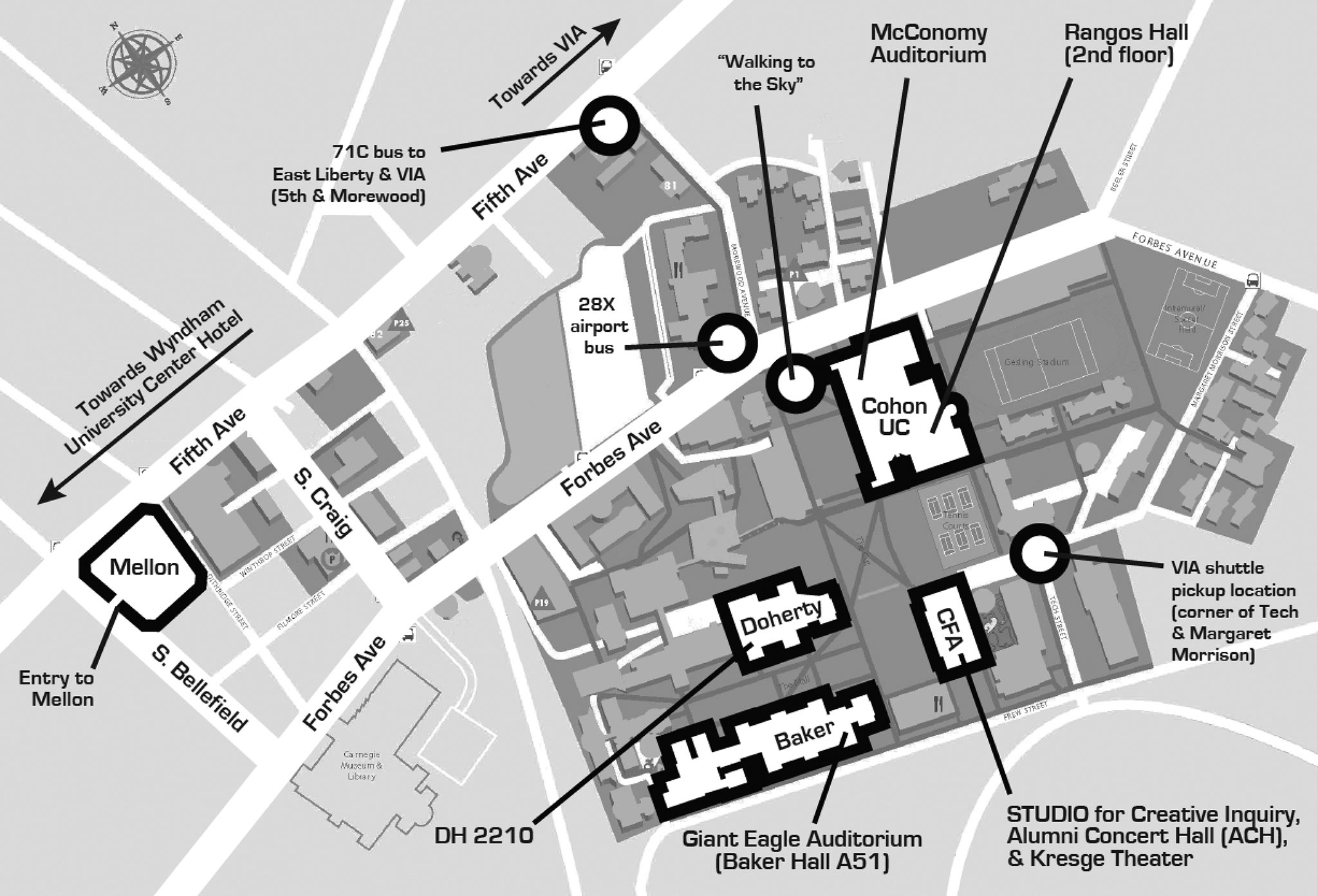 Here's a Google map showing the location of the College of Fine Arts and the CMU campus:
---
Hotel
Our conference hotel is the Wyndham Pittsburgh University Center, located at 100 Lytton Avenue, Pittsburgh, PA 15213, where we have reserved a block of rooms with a special group rate. The Wyndham is a 5-minute walk to our morning presentations at the Mellon Institute, and a 20-minute walk from our afternoon events.
To reserve your hotel room on the Wyndham's website, be sure to use the group code "10016841AR" to get the Art && Code special group rate. Reservations can also be made by contacting in-house reservations manager Sammi Tartaglione at 412-682-6200, extension 6157 or by email at startaglione@wyndham.com — and be sure to tell her you're coming for Art && Code!
Wyndham Pittsburgh University Center
100 Lytton Avenue, Pittsburgh, PA 15213
Tel: +1.412.682.6200
---
Getting Around
Getting to campus from Pittsburgh International Airport (PIT)
We recommend Pittsburgh's 28X "Airport Flyer" bus, which goes directly from the Pittsburgh Airport to CMU. The service stops directly at CMU (the "Oakland/CMU" stop at Forbes & Morewood). The 28X bus takes about 55-60 minutes and costs $3.75 (cash only); CMU is the last stop. Here's the 28X schedule (PDF).
Cabs cost $50 or more. The ride is about 20-40 minutes, depending on traffic.
Uber, Lyft, zTrip and SuperShuttle are all dependable options from the airport.
Taking a bus to Pittsburgh from out-of-town
If you're looking for a cheaper alternative to flying, Megabus and Greyhound have service to Pittsburgh from several cities, including New York, Cleveland, Philadelphia, and Washington DC. The buses have power outlets and free Wi-Fi.
Driving and parking at Carnegie Mellon
WEIRD REALITY headquarters is in the CMU College of Fine Arts building (CFA) located on Frew Street at the rear of campus (here's a campus map). The metered parking spots along Frew Street are expensive — we suggest parking in the East Campus Garage instead. The garage is free on the weekends, and costs $10 for all-day parking on weekdays. For full details, see the driving directions and parking rates and locations on Carnegie Mellon's website.
Getting around by bus or cab
Carnegie Mellon is on several major bus routes. Fares range from $2.25 to $3.75. The bus schedule is integrated with Google Maps, or you can use the Port Authority's bus trip planner.
Unlike New York City, Pittsburgh taxis cannot be hailed on the street. We do not recommend Pittsburgh's Yellow Cab service. Don't tell us we didn't warn you.
Traveling to the VIA Festival & the VR Salon (at the Ace Hotel)

Our VR Salon exhibition is presented at the Ace Hotel in the East Liberty neighborhood. The Ace Hotel is also the site of the 2016 VIA Festival (a nightly music festival which coincides with WEIRD REALITY, and co-curators of the VR Salon).
Pittsburgh's city bus service has a number of lines that run through the East Liberty neighborhood. Our suggested bus route is the 71B, which runs every 15 minutes from the corner of Fifth Avenue & Morewood directly to Ace Hotel. Here is the route preloaded into Google Maps, or you can use the Port Authority's bus trip planner.
At the end of each conference day (Thursday, Friday & Saturday), we will provide limited one-way shuttle service from CMU to VIA's flagship location at Pittsburgh's ACE Hotel in the East Liberty neighborhood. (Note: you will have to be responsible for getting back in the evening, if you need to return to the CMU/Wyndham area.)
We do 

not

recommend walking from CMU to Ace, especially at night and/or alone. It's a 40-minute walk through some iffy spots that are known for occasional muggings.
Got a Question?
Need to find something? Do you have a special need? Message @artandcode on Twitter, or feel free to contact Tom Hughes (or another member of our conference organization team) if you have any questions about travel, accommodations or getting around during WEIRD REALITY. Our team contact information is here.